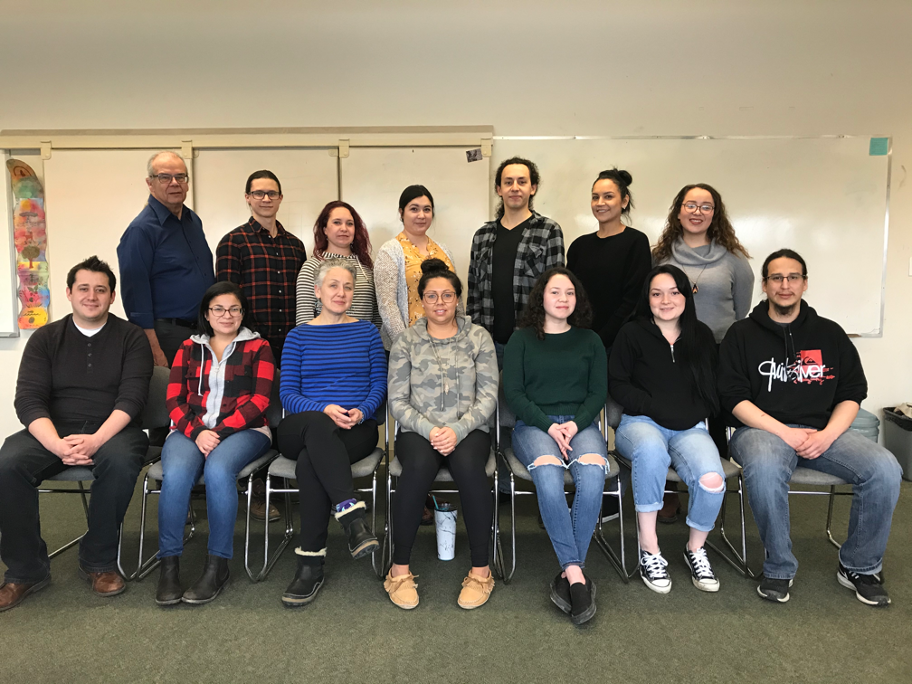 Wa'tkwanonhwerá:ton! Greetings!
Onkwawenna Kentyohkwa (Our Language Society) is a community-based organization that teaches Kanyen'keha (the "Mohawk" language) to adults on the Six Nations Grand River Territory near Brantford, Ontario.
Covid-19
Because of the Covid-19 lockdown, our office and classrooms are closed and our immersion program is now being taught online. The regular online program continues and is unaffected. Our 1st Year Immersion Program in September is FULL. Contact us early in 2021 if you are interested in taking the program next year.
Goal
Onkwawenna Kentyohkwa, based on the Six Nations Grand River Territory, began teaching a full-time adult immersion program in 1999 with the long-term goal of creating "fluent" speakers of Kanyen'kéha (the "Mohawk" language). We began by teaching with what we call the "root-words" (linguists call them morphemes), not the "whole words" of traditional teaching methods. Students quickly became enabled to think in the language and say what they want to say so that they can say and understand words and phrases they've never heard before. (For more, see History, Root-Word Method.
Programs
We now teach a First-Year Program and a Second-Year Program. We hope to begin teaching a Third-Year Program in 2021. We also teach an Online Program for students who can not attend a full-time immersion program. And we operate Kawenón:nis, a web-based computerized verb generator. (For more, see 1st Year Program, 2nd Year Program, 3rd Year Program, Online Program, Kawennón:nis)
Impact
Onkwawenna Kentyohkwa's success in creating highly-proficient speakers has had a major impact at Grand River, not just in local and area schools but across the community. OK's methods have been replicated by language activists in four sister languages across Iroquoia. And Onkwawenna Kentyohkwa has become a recognized leader in language revitalization efforts across Turtle Island. (For more, see Successes.)
Donate
Although we have received a few government grants for short-term projects in years past, we do not receive any government funding at present. All of our programs are community-funded for basic operations only. We are short-staffed and have to scramble for funding every year. We are in need of short-term and long-term financial help. (To donate, click here.)
Contact Us
Onkwawenna Kentyohkwa is located in the GREAT Building in Ohsweken.
Address
Street: Suite 402 – 16 Sunrise Court
Mailing: P.O. Box 348
Ohsweken, Ontario N0A 1M0